"Arts Administration allows you to use both sides of your brain and to capitalize on the skills you already have as an artist or performer. I am very proud to have earned the certificate and grateful for all the support and encouragement I received from Frank Mack and my other UConn professors."
– Joy Pace, Arts Administration graduate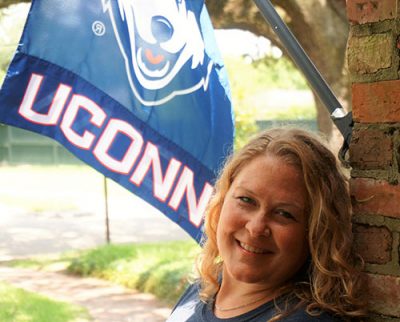 Joy Pace, who recently completed the Arts Administration Online Graduate
Certificate Program, proudly hangs a UConn flag outside her home in Louisiana.
Joy Pace, Artistic and Executive Director Itinerant Theatre Lake Charles, LA
When you run a small not-for-profit performing arts organization on a shoestring budget, you better be prepared to wear all kinds of hats, from marketing director to chief fundraiser to accountant. At least that's what Joy Pace discovered after several months on the job as Artistic and Executive Director for the Itinerant Theatre in Louisiana, a nonprofit professional theater company for which she was one of the founding board members.
The name—Itinerant Theatre—fits the performing arts company to a tee. As Joy Pace explains, a key part of its mission is to bring an affordable, professional forum for the performing arts directly to artistically underserved communities. "We are wanderers—we take our performances to places throughout Louisiana that are culturally underserved."
Joy had been serving as the theater's Artistic and Executive Director for about a year, when she realized she was missing a big piece of the knowledge she needed to manage the business side of the organization. "While I knew all about the creative parts of the job, I really didn't know enough about marketing, accounting, fundraising, or working with a board of directors—everything I did was trial by error," says Joy, who holds a BA in Speech and an MFA in Directing.
That was all about to change.
Joy received a postcard in the mail promoting UConn's Arts Administration online graduate certificate program. As she explains, "I couldn't take any time off to go back to school and there's nowhere locally to get the skills I needed. When I visited the website, read about the program's focus, and learned that I could take each of the four online courses one semester at a time, I was sold."
Since graduating from the program in May 2016, she says that the knowledge she gained has been invaluable. "The program was incredibly helpful and beneficial. It addressed all of the business aspects of managing an arts organization like ours."
Learning how boards of directors work.
The Governance and Leadership for the Arts course, Joy explains, enabled her to better understand how a board of directors works and how to inspire its members to handle many of the tasks that had been bogging her down. "I had been taking on so much that many people thought it was the Joy Pace Theater Company, rather than a collaborative organization with a great team working together to put on outstanding performances in a fiscally responsible way. With the new skills I acquired, we now have board members helping with a variety of projects, including one member who will soon be taking on our Kickstarter Campaign for us."
Sharpening her marketing and financial skills.
The program also helped Joy sharpen her marketing and financial skills. "I'm the only paid staff person, so all of the critical business skills were on my shoulders. Through the program, I learned how to write different types of marketing materials and use different marketing tools to target specific audiences. We also had the opportunity to examine a variety of marketing approaches used by theaters all over the country to figure out what was working and what wasn't … and I learned how to read financial statements and audit reports. I draw on these new skills every day."
So what surprised Joy most about the program? "Thanks to the online tools we had at our disposal, it was very interactive. I was able to connect with many people from around the world, including an American women living and working in Korea. She was in a couple of my classes."
Using both sides of your brain.
If you're concerned that moving into the Arts Administration field will detract from your artistic side, Joy says not to worry. She continues to use many of the skills and draws upon the work ethic she developed as an actor and director, such as her ability to persevere through long hours of practice to get a performance just right, using her creativity and vision to direct a performance, and orchestrating groups of people to work collaboratively. "Arts Administration allows you to use both sides of your brain and to capitalize on the skills you already have as an artist or performer. I am very proud to have earned the certificate and grateful for all of the support and encouragement I received from Frank Mack and my other UConn professors."
---